It's here! Announcing the launch of our newly redesigned website. Here are some of our new features
DelDOT is proud to launch our newly redesigned website. We have redesigned it with you in mind to build a responsive layout for all platforms and provide more resources and information on our programs and services.
If you have any questions or feedback you would like to share with our team, please do so by filling out the form on our Contact us page. We look forward to staying connected.
---
Quick Links
We have added useful Quick Links so that you can get to the most important content faster.
---
Easier Way to Search Content
Can't find your favorite bookmark? We are providing a new and improved search function that searches DelDOT.gov more efficiently to make it even easier to find content. We have made it easier to search for specific words or phrases, without needing to understand or navigate through the structure of the website.
---
Customize Content
You can now customize the links that you want to see on the DelDOT.gov's homepage. These preferences are saved and will be remembered by the your browser each time you visit DelDOT.gov. Select from Community, Business or A-Z Directory.
---
Trending Topics
Now you can see what popular topics are trending on our website.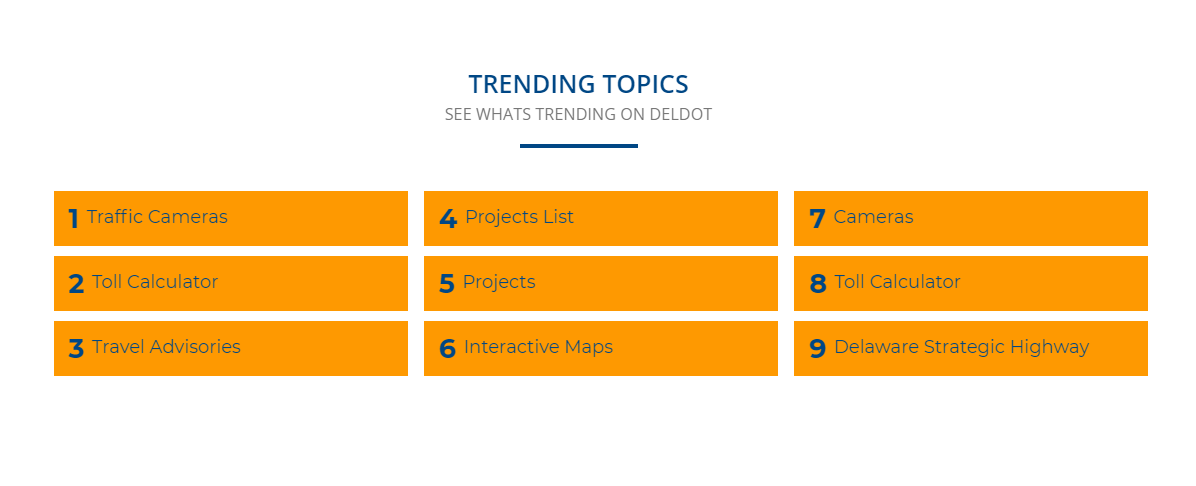 ---
Spotlight
We will now offer a Spotlight section to highlighted featured websites.
---
Mobile Friendly
We even made our website easier to use with your mobile device. The same content and links you use everyday now have a mobile design, which means you can see and do more on your smartphone or tablet.