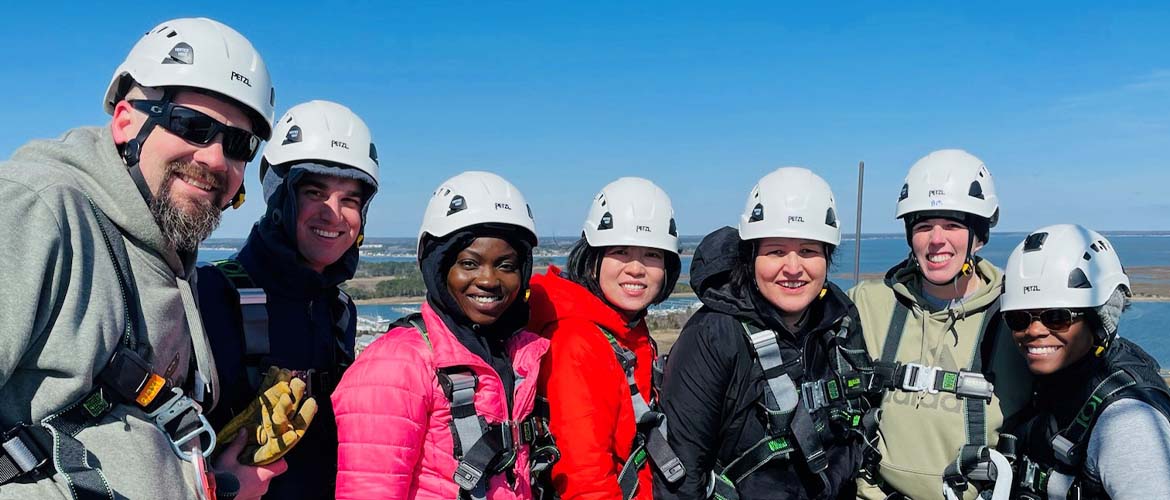 Careers in Transportation Overview
Exciting Career Opportunities in Transportation
DelDOT Offers a Challenging, Innovative Work Environment
---

Opportunities with DelDOT
Looking for a career with possibilities in every direction? The Department of Transportation (DelDOT) has a job for you! DelDOT has many exciting career opportunities that allow you to invest in your community, make a difference in the lives of others, and grow professionally. We are looking for highly motivated, enthusiastic, dependable people to join our exceptional team. We have a variety of careers from entry level to highly skilled, so there is something for everyone. Some of the exciting careers paths we offer are:
Accounting/Finance
Administrative Specialist
Engineers
Equipment Operator/Mechanic
Graphics & Printing Technician
Transportation Planners
Intelligent Transportation Systems Technicians
Intelligent Transportation Technicians
Motor Vehicle Associate
Public Relations
Real Estate (Management/Appraisal
Toll Operations
Traffic Sign Installers
Traffic Signal Technicians
And much, much more
DelDOT's Objective
Under the leadership of Delaware's Secretary of Transportation, DelDOT provides a safe, efficient and environmentally sensitive transportation network. We design, construct and maintain roads and bridges, administer highway operations and operate DART First State, Delaware's statewide public transit network. We are responsible for Delaware's transportation long range planning and work cooperatively with many public and private partners in helping to improve the movement of people and goods in and through our state. As a member of the I-95 Corridor Coalition, we administer and partner in pilot/experimental projects for many Integrated Transportation Management System (ITMS) contracts for the region.
Career Advancement & Cross-Training
In DelDOT we are always looking towards the future. We need your vision and talent to help us work towards a brighter tomorrow. We offer our employees innovative ways to professionally grow within our agency through ongoing training and career development opportunities. Our Department offers Cross-training as well as Strategic Mentoring to employees allowing them to broaden their knowledge and skills, making them more marketable within the Department. Join us today and take advantage of these highly sought after opportunities!
Equal Opportunity
DelDOT is an Equal Opportunity Employer who takes pride in its diverse workforce. Our diverse workforce creates a well-rounded Agency which strives to provide excellent service to meet the needs of Delaware's citizens.
What's In It For Me?
A Comprehensive Package of Benefits
DelDOT employees enjoy a comprehensive package of benefits:
Health, Dental & Life Insurance
Pension & Deferred Compensation
Credit Union & Direct Deposit
Short & Long Term Disability Programs
Annual/Sick Leave Accruals
Educational Assistance
Flexible Spending Accounts for Health and Dependent Care
Our friendly environment offers flexible work schedules, accumulated vacation and sick leave, and tuition reimbursement. Job protection and continuation of health insurance for birth, adoption or serious illness of the employee or immediate family members is also provided under the Federal Family and Medical Leave Act. Learn more about the benefits of state employment by visiting the benefits area.
Located in the Bustling Northeast Corridor
Delaware...a great place to live and work
Delaware is located in the heart of the I-95 Northeast Corridor, close to the major metropolitan areas of Philadelphia, New York, Baltimore and Washington, D.C. It is bordered by the Atlantic Ocean and Delaware Bay, and the states of New Jersey, Pennsylvania and Maryland.
Major international corporations headquartered in Delaware include DuPont, Hercules, Inc, Zeneca, and DuPont Merck, making the state a center of research and development activity. In addition, Delaware is a major financial center, home to banks such as Chase Manhattan and ING USA. Other major employers include Kraft Foods, Proctor & Gamble, Perdue and The United States Air Force.
Broad opportunities for post-secondary education are available through four colleges and three universities in our state. Good schools, low cost of living, caring communities, world-class museums, historic sites, gardens, beaches, performing arts, unique festivals, sporting events, tax-free shopping and outdoor recreation facilities make Delaware a great place to live, or to simply enjoy the beach and night life.
What do you want to do now?
Learn more about current job opportunities with DelDOT
Complete a State of Delaware Job Application
Learn about Civil Engineering Positions Available with DelDOT
Get the Details on the Benefits of State Employment