Harriet Tubman Underground Railroad Byway
Location
The Byway begins where the Maryland Harriet Tubman Underground Railroad Byway ends on Willow Grove Road, Kent County. The route traverses known Underground Railroad sites in Camden and Dover, continues north on US 13, passing through Smyrna, then continues on Rte 15 to Middletown and Odessa. It then follows Route 9 along the Delaware River to Wilmington, where it weaves through 13 Underground Railroad sites. Then it follows Kennett Pike and ends at the Delaware-Pennsylvania State Line.
Length
Approximately 95 miles (including the loops)
Harriet Tubman Drive Tour Guide

Download your driving tour map with directions and information to sites in Maryland, Delaware and Pennsylvania.
Drive Time
About 3 hours
Full Enjoyment Time
2-3 days
Byway Contacts
Debbie Martin
Underground Railroad Coalition of Delaware
Byway Management
For a complete listing of this final report including all appendices, maps and directions are included.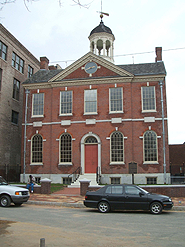 Before the Civil War, African American Freedom Seekers fled north to freedom through a combination of people and landscapes that became known as the "Underground Railroad." As the last slave state, Delaware was a critical leg to freedom. Harriet Tubman and other "conductors" led more than 3,000 Freedom Seekers through Delaware. Wilmington Quaker, Thomas Garrett, was influential on orchestrating the Underground Railroad network in Delaware through organization of members and safe locations.
Harriettubmanbyway.org
This Byway provides the traveler with an alternative travel route through the state in a generally south to north orientation while giving opportunities to experience Delaware's Underground Railroad history through locations where this history happened.