Latest Updates
Below you can find the most recent developments in DelDOT's integrated transportation management program. For older articles, please visit the Archives page.
---
January 2021
New and improved transportation management website.
We've updated our integrated transportation management program website!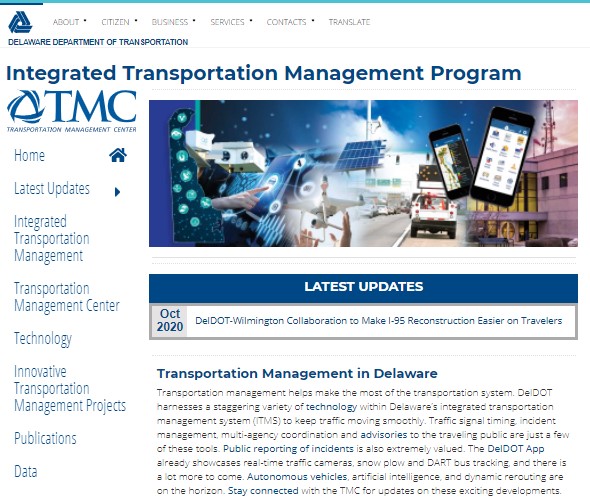 The updated site is easy to use and full of helpful information.
The traveling public can learn about real-time information and reporting options available. Using these options will help you get places faster!
Transportation professionals can use the best available data to enhance your studies and project designs.
The interactive map and the DelDOT app use the same extensive data DelDOT managers use to operate the transportation system. You can not only find out how traffic is on your commute or trip to the beach but also understand the technology behind the data. You can report a roadway issue to DelDOT by telephone, by email, on the website form, or on the DelDOT App.
You can use the new site to learn about:
The integrated transportation management program provides a big-picture perspective on transportation mobility throughout Delaware by monitoring all travel via all modes of transportation. By monitoring the entire transportation system at once, the TMC is uniquely able to see how one construction project or traffic incident affects the entire transportation system.
In addition to our existing mammoth system of data and traffic control, we always have an eye on emerging technologies. Check out how artificial intelligence and other innovative projects can make travel in Delaware easy and safer!