Reducing the Frequency and Severity of Roadway Departure Crashes
A roadway departure crash is a non-intersection crash which occurs after a vehicle crosses an edge line, a center line or otherwise leaves the traveled way. These crashes frequently result in an injury or fatality when the departing vehicle strikes another vehicle or one or multiple fixed objects located outside the travel way such as trees, utility poles, ditches and bridge abutments after the initial roadway departure. In many cases, roadway departure crashes involve a single vehicle; therefore DelDOT's strategies will first address keeping vehicles on the roadway and secondly address the consequences of leaving the roadway.
Safety Edge
Pavement edge drop-off is the uneven edge or vertical drop-off between the paved edge of roadway and the unpaved shoulder area. A drop-off of 2-inches or more is considered to be a hazard to errant vehicles especially if the edge is at a 90° angle to the shoulder surface. Pavement edge drop-offs result from overlays, pavement-edge breaking, erosion, wear of unpaved shoulders or when the shoulder is not flush with the pavement following a construction project. A combination of shoulder erosion and edge rutting caused by vehicles repeatedly leaving the paved travel lane are typically found at these locations.
Once a vehicle has slipped off the pavement and onto the unpaved or deteriorated shoulder, abrupt or vertical pavement edge drop-off can make it difficult for a driver to reenter the paved travel lane. Studies show that drivers tend to attempt to return immediately to the paved travel lane; in doing so, they tend to over steer when "scrubbing" (the intense rubbing of the right-side vehicle tires against the pavement edge) prevents the vehicle from climbing back onto the pavement.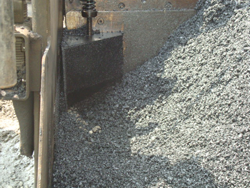 Safety edge is a relatively easy and inexpensive countermeasure to pavement edge drop-offs. It is a tapered transition between the paved surface and the unpaved shoulder. The recommended 32° ± 5° angle with the horizontal tapered pavement edge or fillet can help drivers make a smoother, more controlled reentry back onto the paved travel lane compared to a more abrupt or vertical edge. The tapered edge helps prevent drivers form overcorrecting if the drift onto the shoulder, thus decreasing the likelihood of the vehicle crossing into opposing traffic or leaving the roadway.
The Delaware Department of Transportation has completed a test location of the Safety Edge countermeasure. This project was completed on Old Furnace Road in Sussex County, Delaware during a recent pavement rehabilitation project (see photos). Since the demonstration project has been completed, there have been no reported roadway departure crashes. DelDOT has recently finalized the Design Guidance Memorandum and Specifications for the installation of Safety Edge on projects statewide. Safety Edge will be included on all projects starting in 2011.
Rumble Strips
Rumble strips are an effective countermeasure for preventing roadway departure crashes. Rumble strips provide an auditory (noise) and vibratory (vibration) sensation that alert drivers when they are leaving the travel way. There are two main applications of rumble strips: centerline and edgeline/shoulder rumble strips. Centerline rumble strips are used on two-lane, two-way roadways as an effective countermeasure to prevent head-on crashes and opposite direction sideswipe crashes. Shoulder rumble strips are an effective countermeasure to alert drivers that they are leaving the travel way and are used to prevent roadway departure crashes. Shoulder rumble strips can be used effectively on all roadways, even those roadways where bicycle traffic is prevalent through the use of a modified design that accommodates bicycle travel.
Rumble Strip Locations
US 113 from Milford to DE/MD Line
I-95
SR 1
Portions of US 13
US 301 (centerline rumble strips)
Systemic Safety Improvement Program (SSIP) - High Friction Surface Treatments (HFST)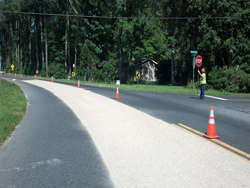 The intent of DelDOT's Systemic Safety Improvement Program (SSIP) is to identify candidate locations that are expected to benefit with the implementation of specific safety improvements. High-friction surface treatments (HFST) are proven to reduce the potential for crashes that occur on wet pavement.
High friction surface treatments (HFST) are pavement treatments that can dramatically and immediately reduce crashes, injuries, and fatalities at locations where motorists brake frequently or where wet road surfaces reduce pavement friction, resulting in potential crashes. HFST is different from other types of pavement surface treatments such as chip sealing, microsurfacing, milling and grooving.
HFST is a type of ultra-thin pavement overlay that utilizes an epoxy resin or polymer binder and high-quality, polish-resistant aggregate. The binder material is applied to a section of pavement and the aggregate is spread over the binder material. The aggregates are polish- and abrasion-resistant, resulting in a higher pavement friction and longer-lasting overall friction. Polishing of aggregates typically occurs when there is a lot of friction demand on a section of roadway, such as horizontal curves.
The material is applied using a truck-mounted application machine capable of mechanically mixing, metering, monitoring, and applying the binder resin system and high-friction aggregate in one continuous pass.
DelDOT utilizes a three-year open-end contract established for HFST implementation using HSIP, HRRRP, and Section 154 Penalty Transfer Funds. As of April 2017, 33,396 SY of HFST has been installed at over 20 different locations since the contract was awarded in 2015.