Safety Improvement Projects
U.S. 301 Centerline Rumble Strips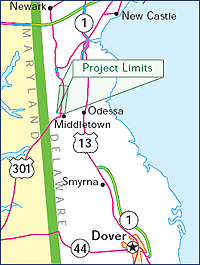 Centerline rumble strips are an effective safety tool used to address head-on and fixed object accidents occurring on two-lane rural roadways resulting from motorists crossing the centerline. This type of accident typically occurs as a result of driver inattention, driver error, and fatigue. The desired results from centerline rumble strips are the vibrations and noise produced to alert drivers that they are crossing the centerline. To address a recurring accident problem identified on U.S. 301 involving head on accidents and community pressures to construct a new four-lane roadway, the Department of Transportation installed centerline rumble strips along the 2.9 mile section of U.S. 301 from the northern limit of the City of Middletown to just south of SR 896.
Accidents - Before and After Study
A before and after accident study was performed to determine the effectiveness of the installation of centerline rumble strips on U.S. 301. Average yearly accidents during the three-year period before installation were
compared to average yearly accidents during the six-year period after installation. During the "before" period, six fatal accidents were reported, resulting in nine fatalities. All were the result on head-on collisions. As shown in Table 1, although the total number of reported accidents did not decrease significantly, and the number of property damage and injury accidents increased slightly, average yearly head-on collisions decreased by 90 percent after the installation of centerline rumble strips. Accidents caused by motorists crossing the centerline decreased by 60 percent. Most significantly, even with a five percent average yearly increase in traffic volumes, there were no fatal accidents reported during the six year period after installation of the centerline rumble strips.
Installation
Installation of milled centerline rumble strips is performed by a machine that has a blade that is programmed to cut the same shape, depth, width, and length into pavement. The impressions are twenty-four inches wide, are spaced twelve inches apart, and are made along the centerline as shown in Figure 2. After the machine has cut the shape, the resulting debris is swept, collected, and discarded. Because the centerline rumble strips are cut into the pavement, they are equally effective on new, existing, or Benefits and Costs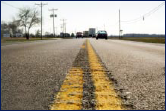 Over the years, the cost of installing rumble strips has decreased dramatically due to technological advances in installation and widespread applications throughout the country. The cost per linear foot of roadway varies from approximately $0.20 to $0.60 depending on the length of installation (e.g. larger projects result in lower average costs per foot). This cost does not include maintenance of traffic.

A benefit-to-cost (B/C) analyses was performed to determine the cost effectiveness of the U.S. 301 centerline rumble strip application. The resulting B/C was approximately 110. Due to low installation and maintenance costs, centerline rumble strips were an effective method of reducing head-on collisions.
Advantages
Effective in reducing the number of head-on collisions due to driver inattention, driver error, and fatigue
Centerline rumble strip installation costs are low
No noticeable degradation of pavement
Rumble strips require little or no maintenance
Milled rumble strips can be installed on new or existing pavements
Unlike other safety features that decrease in effectiveness over time due to the "novelty" effect, this is not an issue for drowsy drivers
Disadvantages
The noise produced by rumble strips may be disruptive to nearby residents
Potentially transferring a head-on collision problem further down the roadway to locations without centerline rumble strips
SR 1 High-Tension Guardrail
The Delaware Department of Transportation completed the installation of a High-Tension Cable Guardrail system in the median of SR 1 between the SR 896 and SR 299 interchanges. This project was completed in early 2010. The purpose of this project was to close the median to prevent median crossover crashes. Between 2004 and 2007, four median crossover crashes occurred within the limits of the project. Two of those crashes resulted in fatalities. Due to the severity of these types of crashes, DelDOT worked to develop design plans for the installation of a median barrier to close the median and prevent errant vehicles from crossing into the opposite direction of travel.
Project Background
Project limits - south of SR 299 to north of SR 896 (approximately 5 miles)
AADT = 35,876 vehicles per day (2008)
Speed limit = 65 MPH
Project limits include two horizontal curves
Median width = 66 feet (greater than width for when median barrier is required)
Options Considered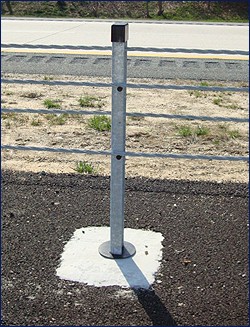 Double faced W-beam steel guardrail (traditional guardrail)

Less deflection (2 - 4 feet)
Higher installation costs
Higher maintenance costs
Requires outside contractor to maintain and repair damaged sections
Repairs typically include the beam and posts
Depending upon installation and median cross slopes, striking the double faced barrier could potentially send a vehicle back out into the travel lane (dependent upon location of strike and height of barrier)
Cost = $27 per LF

High-tension wire rope guardrail

More deflection (6 - 8 feet), better for application in wider medians
Lower installation costs
Lower maintenance costs
Maintenance can be completed by State forces and the maintenance is fairly quick
Repairs typically include the replacement of the posts
The barrier is designed to absorb the impact of a vehicle and assist in decelerating the vehicle after impact
When the system is struck, the posts break away, but the cables typically remain at the proper height and there is still tension on the system.
Cost = $15 per LF
System Chosen by DelDOT
DelDOT chose the Brifen Wire Rope Safety Fence
Four wire cable system with weak posts. Cables are interwoven between the posts
Product is used extensively in Midwestern states such as Oklahoma and other states where speeds are higher and terrain is not as flat as in Delaware.
Project cost = $748,677.69 - used Federal grant money. No state money was used
Project included the installation of an asphalt maintenance strip, installation of the post sockets, which are imbedded in concrete, installation of posts and cables.
This is a pilot project to allow DelDOT to test the effectiveness of this particular system, analyze the timeliness of maintenance on the system and determine if life cycle costs are better than that of standard guardrail
Maintenance of System
DelDOT maintenance forces can complete the maintenance of this system minimizing overall maintenance costs since a maintenance contract is not required.
Typical hits of the system will require only the posts to be replaced and the cable to be reset onto the posts.
Maintenance personnel will use a spreader tool to spread the cable in order to insert the posts. Then the cable is re-attached to the post using small plastic clips.
Maintenance should only require two or three people to perform the work.
Time of repair could be longer if cables are required to be replaced or if they were cut during the emergency response. This should not be typical
Rumble Strips Design Comparison