Archives
Below you can find the archived articles in DelDOT's integrated transportation management program. For the latest updates, please visit the Latest Updates page.
---
---
December 2022
Winter Weather? How DelDOT Works to Keep You Safe
The Delaware Department of Transportation (DelDOT) works year-round to keep travelers safe and mobile. The harsh winter months can be particularly hazardous:
Icy roads increase the risk of collisions.
Heavy snow can reduce visibility to a few feet.
A bad storm can cause permanent damage to Delaware's transportation system.
DelDOT's Integrated Transportation Management System (ITMS) helps us monitor, prepare for, and respond to these threats while keeping you and the rest of the traveling public informed.
DelDOT gives you a wealth of resources to stay on top of winter weather:
The free DelDOT app offers a travel map, snow tracker, and snow FAQ, among others. You can quickly and easily see travel advisories or report issues while on the go.
The TMC interactive map shows conditions throughout Delaware, including snow and ice accumulations. The map's traffic camera live feeds can identify blizzard white-out conditions or confirm sites affected by snow or sleet. Choose a map layer, such as Travel Times or Roadway Weather, in the drop-down menu to see the conditions along your route. You can even track DelDOT snowplows as they clear the roads!
Variable message signs update travelers who are already on the roadway.
DelDOT's traffic advisory radio station (WTMC 1380 AM and 98.5 FM) gives updates on roadway and transit conditions. You can also listen to WTMC through the DelDOT app.
Letting you know what's going on is just part of what the ITMS can do. It also helps DelDOT workers monitor, prepare for, and respond to winter weather conditions:
Two weather monitoring networks, the Delaware Environmental Observing System and the state-owned Roadway Weather Information System, offer detailed, real-time data to help us manage the transportation network.
The National Weather Service provides forecasts and reports we use to anticipate upcoming weather and monitor major storms.
Delaware's real-time Computer-Aided Dispatch connects state emergency services so they can respond quickly when anything goes wrong.
DelDOT's ITMS harnesses technology to manage transportation during even the worst winter weather. It keeps Delaware moving, no matter the season. For more information, visit the ITMS website.
---
---
---
September 2021
The Future of Delaware's Transportation Management System
To deliver a transportation system that keeps travelers moving safely with minimal impact on the environment and maximal return on investment, DelDOT needs to plan for both long-term and short-term improvements in the Integrated Transportation Management (ITM) program.
The ITM program enables us to monitor and manage traffic and transportation in real time. For a fraction of the cost of building new roadways, ITM investments optimize safety and efficiency. Integrated Transportation Management System (ITMS) devices are built to withstand all kinds of weather and can last up to 20 years with proper maintenance.
The 2017 Integrated Transportation Management Strategic Plan guides long-term decision-making. It has four main goals: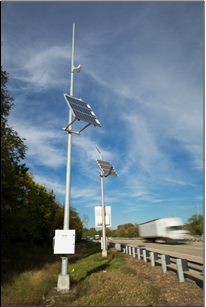 Create infrastructure for transportation management
Disseminate real-time, accurate information to enable travelers to decide when, where, and how to travel
Develop partnerships to support transportation management
Develop internal capacity for transportation management
The short-term implementation plan, which covers five years at a time, is updated every year. The current plan focuses on the five areas described below.
Adaptability
The ITM program is structured yet flexible, easily adapted to technological and environmental changes. The traffic engineering fundamentals remain the same, but the implementation changes.
For example, in the next five years we will continue to replace in-road ITMS monitoring devices with roadside devices. These devices can be more easily maintained without closing lanes or endangering workers.
Mobility Across Modes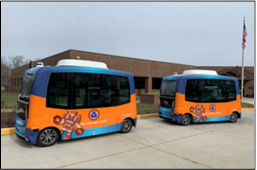 The ITM program is multimodal, meaning that it covers all kinds of transportation, from cars, buses, and trucks on the road to trains, airplanes, ferries, bikes, and pedestrian transportation.
DelDOT is piloting use of connected and automated (driverless) vehicles during this five-year planning period, beginning with an automated shuttle program. These vehicles can make travel safer and more efficient.
Clean Energy
The implementation plan focuses on energy efficiency through the following improvements:
Public transit and other multimodal options to reduce reliance on private vehicles
Traveler information to keep you moving as efficiently as possible
Incident management to clear roadways quickly after a crash or other incident
Synchronization of traffic signals to avoid idling at intersections
Intersection improvements to enhance performance of the traffic signal system and keep traffic moving steadily.
Cutting-Edge Technologies
We're also exploring the benefits of artificial intelligence (AI). A properly "trained" AI system can use traffic monitoring information to improve traffic flow, working more quickly and efficiently than a human operator could. For example, the AI system could "notice" that traffic is backing up at an intersection, find that the signal is not functioning properly, contact dispatch for repair, and send a travel alert via the DelDOT website, interactive travel map and DelDOT app—all in a matter of seconds.
Collaboration
The ITM program integrates people as well as technologies. DelDOT staff collaborate within their departments, with other departments, and with external stakeholders including state and local agencies, public safety agencies, telecommunications providers, academic and research institutions, and a host of national and regional organizations and companies.
---
---
---
---
---
---
---
---