Illicit Discharge Detection and Elimination
Only rain should go down the storm drain. DelDOT's Illicit Discharge Detection and Elimination (IDDE) program works to identify and eliminate the sources of polluted stormwater discharge . The IDDE program achieves the following:
Evaluate and screen 20% of DelDOT's stormwater system each year during dry weather conditions, defined as the period following at least 72-hours after the most recent precipitation event measuring at least 0.10 inches or more
On a quarterly basis, monitor stormwater discharge at all DelDOT Maintenance Yards during storm events, defined as the period commencing within 20 minutes of the start of precipitation with continued precipitation for 3 hours
Investigate citizen reports of water pollution to 302-STOPPIT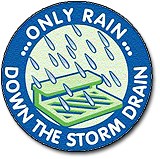 If you see something other than stormwater within or being deposited into the storm drain system, it is your duty to report it to a community official, DNREC or DelDOT.